ASHLEY MARY

Ashley Mary is an artist and illustrator working in Minneapolis, Minnesota. Her work is a whimsical amalgam of shapes and textures that define her paintings and product design.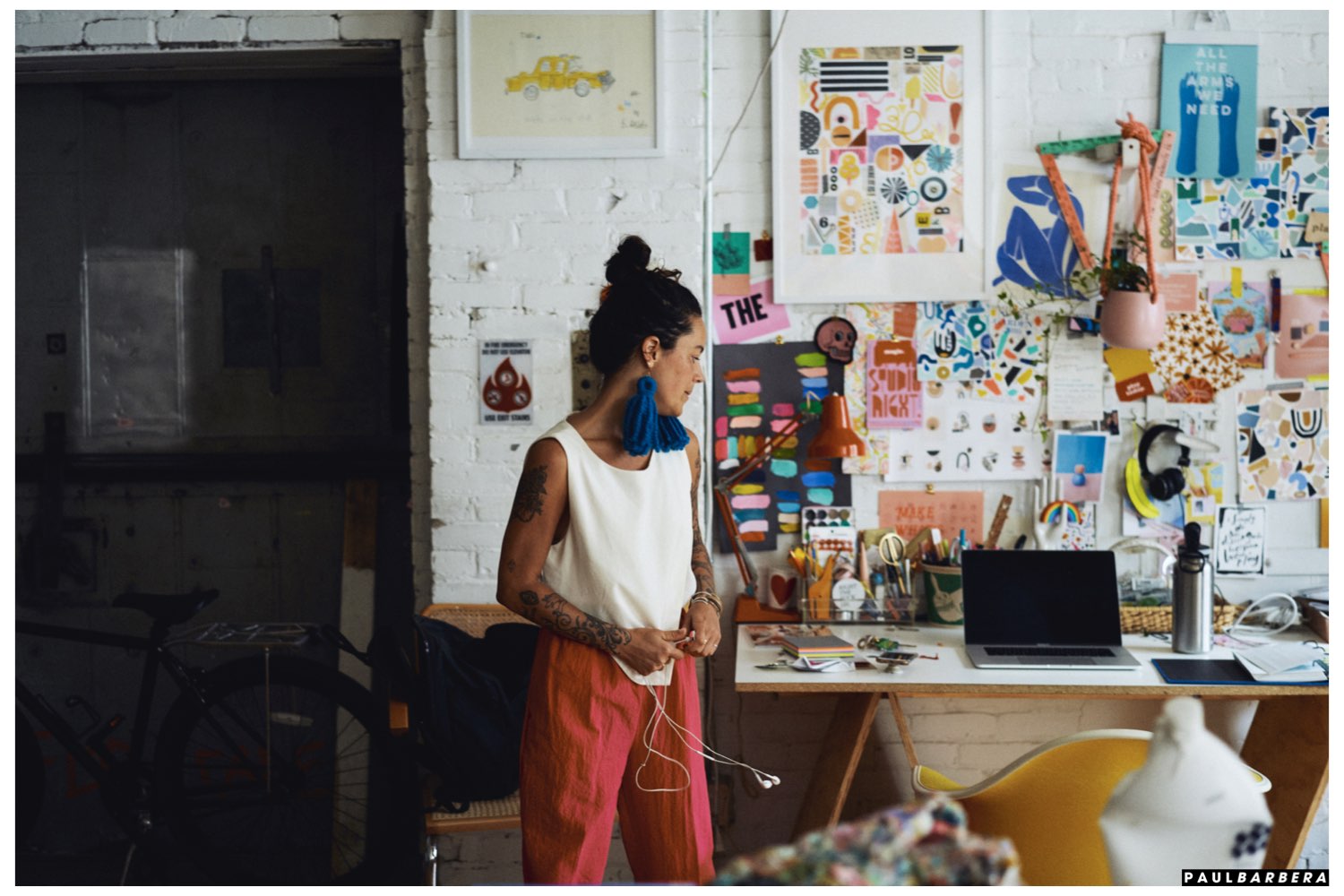 What is something that I would be surprised to find in your space?
Honestly, nothing would surprise you. My space is a playhouse and by proxy everything in my space is quirky, playful, colorful...it's all part of the goofy bright energy I try to maintain in my space. If you know me and you know my art, you see my space and everything just makes sense.
Some fun things I love in my space:
My felt banana and pickle jar from a Lucy Sparrow installation she did in New York, where she created an entire corner bodega using felt. I have SO many tiny spirit rocks from Shop Amano, another artist down the hall. They're essentially little painted ceramic blobs that just serve the purpose of making me happy.

Describe your ideal workspace in three words…
Bright, colorful, stocked.

What are you most proud of in the space?
I'm most proud of the feeling I've created with my choices in color, furniture, decor, collections, and kitsch. I think generally people come in and feel a good energy, it feels happy, open, light. It invites you to poke around, be inspired, feel the colors and I think most leave with a smile on their face and say as much. That is pure joy for me.

What can you see outside your windows?
The windows of the studios across from me! Whenever I change into my painting clothes I hope they're not looking too closely into my space as I'm too lazy to move somewhere secluded to change. ha!

Describe a real life mundane situation that inspires you!
Recently, the color coordination of cutlery and plates at a party supply store really had me beside myself. I'm like a gnat to light with colors and can be easily distracted by an interesting combination in an ordinary space. The candle stick pile at the thrift store always stops me in my tracks. Plastic trash washed up on a beach. Stickers piled unto an old mirror. A print ad in an old magazine. A pink receipt for a dry cleaners. Whenever I travel, which is about once a month, I try to run in the mornings and I usually spend the run stopping and shooting some yummy moments I stumble upon, typically colored walls, bold type, flora that catches my attention.


What themes do you pursue in your work?
Youth, nostalgia, play, imperfections, joy, energy, vibrancy. I'm trying to capture a simplicity that is perhaps rooted in childhood. An uncomplicated, delightfully messy kind of story.

What is your dream project?
Right now I'm learning how to skateboard..its a slow pokey process for me but kind of exhilarating. I'd love to work with a skateboard brand on decks or a ramp design or something in that world. And socks. And a mural in an outdoor space...and...

Favourite song/band podcast while working?
João Gilberto style music. I love old cuban music, anything global.
Lately any podcast related to cults: Heaven's Gate, The Gateway, etc.

What's the best advice you've been given and from whom?
Instructors who told me keep playing around. Teachers who told me less is more. An accountant who told me to put away 40% of every dollar you make.

What is your most important artist's tool?
For me my palette knife as it's the great texture maker. It gives my work the organic, yummy frosting-like vibes and also keeps my edges crisp and graphic.

What tools or objects or books, are indispensable in helping you creative or think.
My palette knives. My collection of scans. I come back to these all the time. I am very dependent on my scanner to document my work and bring my paintings unto product design or use to chop up and collage into a concept for another project. The scans of my paintings and collages become tools for me always, a back log of patterns, textures, and colors to use when the time arrives. And I love to look at them with fresh eyes in terms of what new things could they become. A collage can turn into a future painting, a painting becomes a piece of a future mural, a mural design becomes a part of a notebook design. It's all cyclical.